TNDY 3 Voice Sound Card ISA
Die TNDY 3-Voice Soundkarte ermöglicht es ihnen auf PC XT und AT Systemen stilechten Tandy Sound zu genießen. Basierend auf dem Texas Instruments SN76489, klingt sie genau wie ein Tandy 1000 System.
Der SN76489 verfügt über folgende Features
3 Square Wave Ton Generatoren
16 unterschiedliche Lautstärkelevels
1 Noise Generator mit 2 Betriebsarten, Weißes Rauschen und periodisches Rauschen und ebenfalls 16 Volume Leveln.
Mit dem PC-Speaker Eingang verbinden sie ihr Mainboard mit der Tandy Soundkarte und den Ausgang wieder mit den PC-Speaker, so ist kein externer Lautsprecher nötig!
The TNDY 3-Voice sound card allows you to enjoy Tandy sound on PC XT and AT systems. Based on the Texas Instruments SN76489, it sounds exactly like a Tandy 1000 system.
The SN76489 has the following features
3 Square Wave tone generators
16 different volume levels
1 noise generator with 2 modes, white noise and periodic noise and also 16 volume levels.
With the PC-Speaker input they connect their mainboard with the Tandy soundcard and the output back to the PC-Speaker, so no external speaker is necessary!
Um die Erfahrung zu komplettieren gibt es noch den passenden Gehäuse Aufkleber.
To complete the experience there is also the matching housing sticker.
Entworfen von Saskia von Brunswickvisual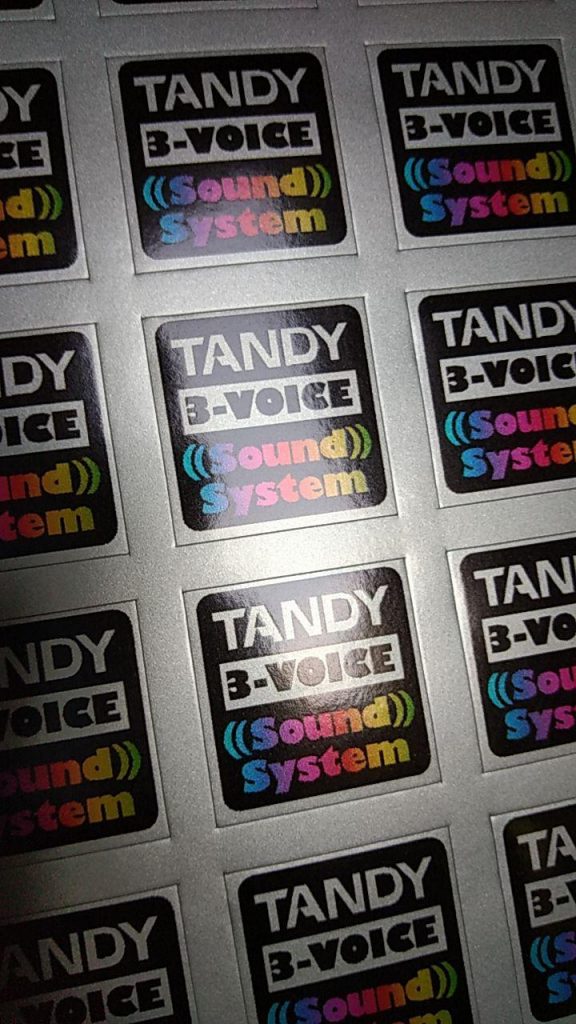 Treiber und Kompatibilität / Drivers and Compatibility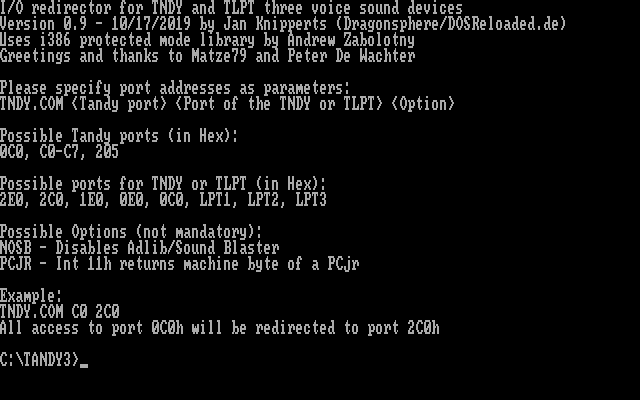 TNDY Driver by Jan Knipperts
basiert auf TEMU, verwendet direkt den Protect Mode. Daher Inkompatibel mit Disk-Caching-Software und EMM386/QEMM-Speichermanagern.
based on TEMU, directly uses Protectmode. Incompatible with Disk Caching Software an EMM386/QEMM Memory Managers.
AT Computer ab 386 können die Treiber nutzen um Anfragen an die Tandy Karte auf die 2C0h Adresse umzuleiten.
Leider sitzt an allen PCs ab der 286 Generation der zweite DMA Controller auf der gleichen Adresse wie im Tandy 1000 der Sound Chip. Somit wurde es nötig eine andere Adresse für diese Maschinen zu wählen.
In einigen Fällen funktioniert es aber Problemlos die Karte drekt auf der XT Adresse im AT zu nutzen. Dies wird jedoch nicht empfohlen da es zu unspezifischen Problemen führen kann. Ich persönliche Schalte die Karte um wenn ich Tandy Software im 486 nutzen möchte.
Der TSR garantiert keine 100% Kompatiblität.
Für VGM Player, Tracker, und andere Native Software ist der TSR nicht nötig.
Einige Spiele aktivieren Tandy Sound nur zusammen mit Tandy Video, oder Fragen das Machine Byte ab um festzustellen ob sie wirklich auf einen Tandy läuft.
Diese Programme benötigen Patches.
Einige finden sie auf OldSkool.org, Danke Carlostex!
ftp://ftp.oldskool.org/pub/TandySoundPatches/
AT computers 386 and later can use the drivers to redirect requests to the Tandy card to the 2C0h address.
Unfortunately on all PCs from 286 on the second DMA controller is located on the same address as the Tandy 1000 sound chip. So it was necessary to choose a different address for these machines.
In some cases it works without problems to use the card on the XT address in the AT. This is not recommended as it can lead to unspecific problems. I personally switch the card to XT Mode if I want to use Tandy Software in the 486.
The TSR does not guarantee 100% compatibility.
For VGM players, trackers, and other native software the TSR is not necessary.
Some games only enable Tandy sound in conjunction with Tandy video, or query the machine byte to determine if it is really running on a Tandy. These programs require patches. Some can be found on OldSkool.org, thanks Carlostex!
ftp://ftp.oldskool.org/pub/TandySoundPatches/