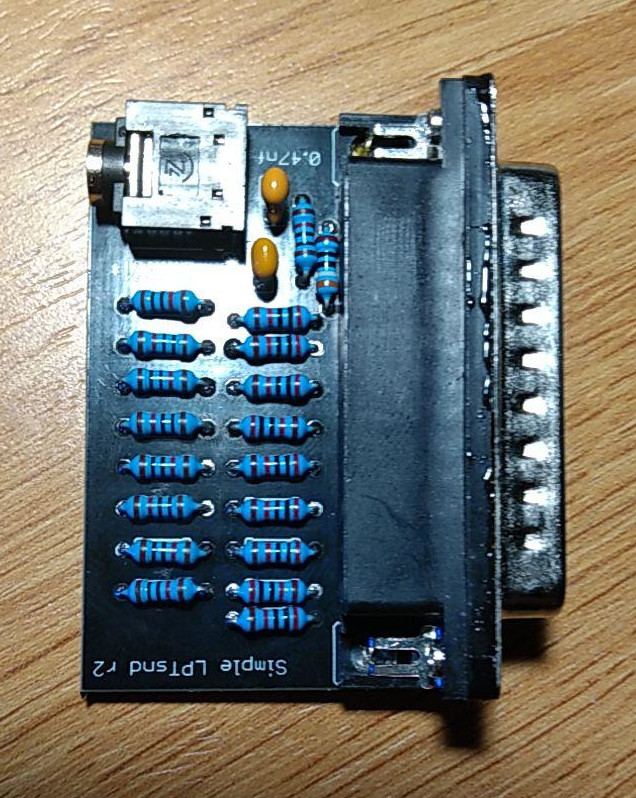 Das Covox Speech Thing (auch bekannt als Covox-Stecker) war ein Computer-Zubehör zur Ausgabe von digitalisierten Klängen. Es handelt sich hierbei um einen primitiven 8-bit–D/A-Wandler (ein R2R-Netzwerk) in der Gestalt eines Adaptersteckers, der an den Druckerport des PCs angeschlossen wird und so einen analogen Ausgang zur Verfügung stellt.
The Covox Speech Thing (also known as Covox plug) was a computer accessory for outputting digitized sounds. It is a primitive 8-bit D/A converter (an R2R network) in the form of an adapter plug that connects to the PC's printer port to provide an analog output.
https://de.wikipedia.org/wiki/Covox_Speech_Thing
I recommend the English Page, its more complete. 
https://en.wikipedia.org/wiki/Covox_Speech_Thing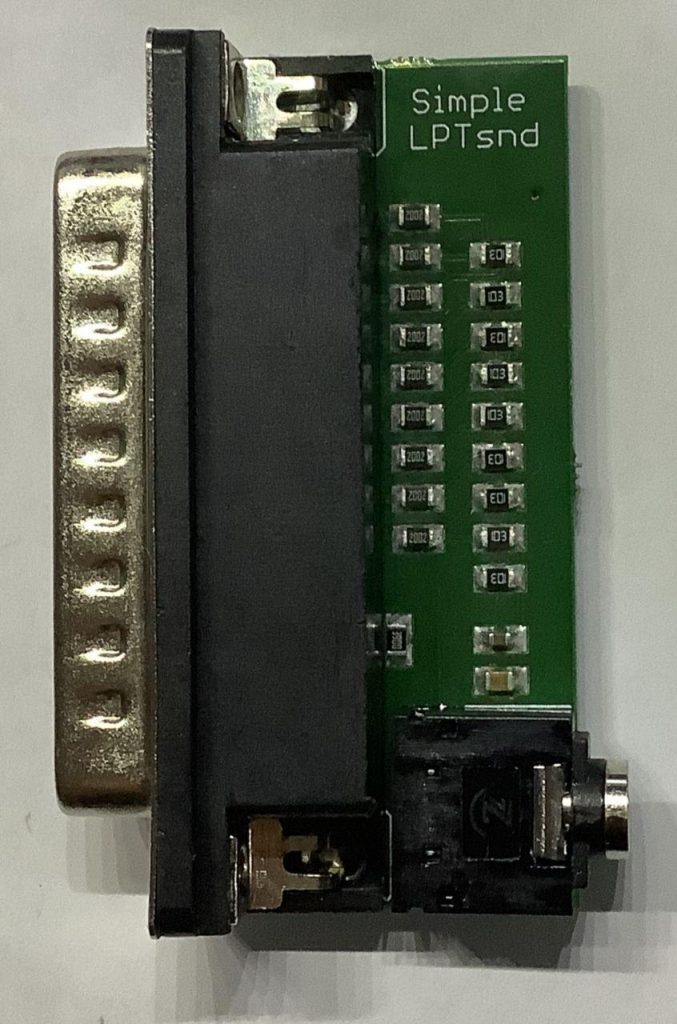 Simple LPTsnd r3 
Eine Kleinere Version des Simple LPTsnd r2.
Funktion ist identisch.
Der Simple LPTsnd ist meine Variante vom Covox Plug und basiert auf der Schematic von Wikipedia.
Er hat allerdings eine Besonderheit, er ist auch SoundJR und FTL Sound Adapter Kompatibel. Kann also mit dem SoundJR Windows 3.x Treiber benutzt werden welcher eine bessere Performance bietet als der Original Covox Treiber.
Und dem Spiel Dungeon Master (FTL Sound Adapter)
Die Schaltpläne sowie PCB Layout für die DHT Version können sie auf meinen Github Account finden.
The Simple LPTsnd is my variant of the Covox Plug and is based on the schematic of Wikipedia.
But it has a special feature, it is also SoundJR and FTL sound adapter compatible. So it can be used with the SoundJR Windows 3.x driver which offers a better performance than the original Covox driver.And the game Dungeon Master (FTL Sound Adapter)
You can find the schematics and PCB layout of DHT Version on my Github account.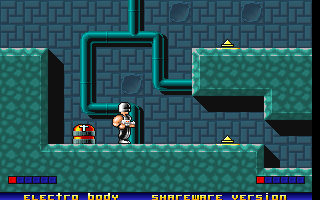 Eine Handvoll Spiele unterstützt den Covox Plug
Eine Liste finden mit kompatibler Software finden auf dieser Seite.
MP3 und WAV Player

Cvxplay (Wav File Player)

WavePlay

MOD Player

Inertia Player

GLX Player

Modplay

Mod Play Pro

Rainbow Player

Visual Player 2.0

Qmpd v1.2

MEGAPLAY v0.97

Mod Master und Mod Master XT

Music / Tracker:

Sound Club

Space Pigs Tracker

MIDI:
?
Games:
3D Dinsaur Adventure

688 Attack Sub

Arachanophobia,

Adventures of Robbo

Battle Bugs (EMS required!)

Chopper Duell

Dungen Master (FTL Soundadapter)

Doom 2D

Electro Man / Electro Body

Pinball Fantasies 1 & 2

Pinball Dreams 2

SimAnt

Shadow President

Star Control 2

Sticky Bear Townbuilder

Street Fighter 2

Yo! Ye! Beat the Ghosts

Chuck Yeager's Air Combat

Uncover It!

Ports of Call v2.0

Pim Pam Pum

Hariboys Quest

Leather Goddesses of Phobos 2

Last Half of Darkness

Zorro

Zoo Keeper (1997)

Emulatoren:

No$C64 – C64 Emulator

C64S – C64 Emulator

Soundkarten Emulator:

TEMU emuliert Disney Soundsource und Tandy

VirtualSound Blaster -> emuliert SB effekte -> z.B. Prince of Persia (Digital FX)

Covoxer – Tandy 3 Voice Sound

Windows 3.x Treiber (Nur WAV Output, kein MIDI)

COVOXWIN.ZIP

SOUNDJR Treiber (Lautstärkenreglung funktioniert nicht)

LPTDAC.386: LPTDAC Waveout Driver Version 1.0á (3) (95/98 nonSE untested)

Demos

Crystal Dreams 1 & 2

Cronologia

Dig Ice

Hysteric Overload

Lunatic

Physical

Wish