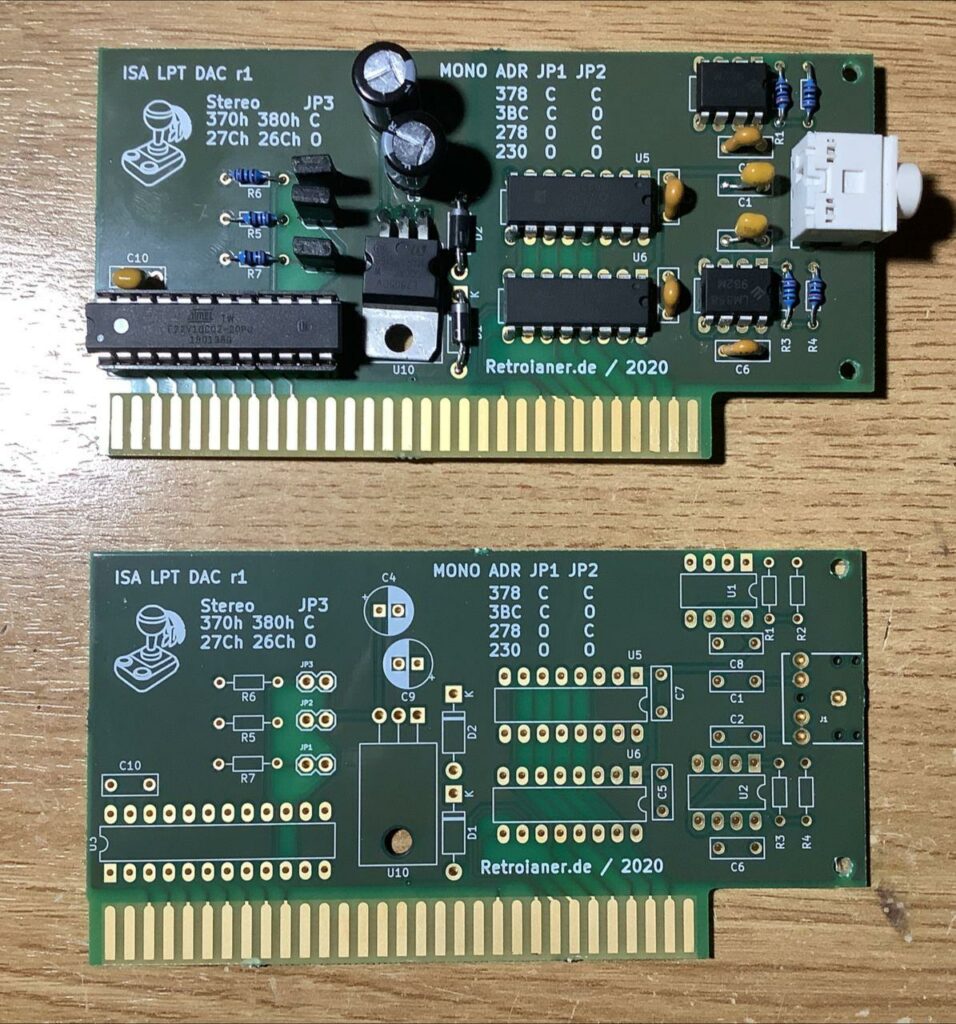 Dual ISA DAC r1 – Covox Speech Thing on ISA Bus
Die Dual ISA DAC r1 Karte enthält 2 DAC Chips welche der Soundqualität einer Sound Blaster in nichts nachstehen.
In der Variante r1 wird ein GAL für das Adress Decoding benutzt. Das erlaubt das Mono und Stereo gleichzeitig verwendet werden können.
Sie kann unter anderen benutzt werden um MOD Files zu hören (Stereo) und läuft unter Windows 3.x mit dem Covox Speech Thing Treiber (Mono) 
Auch die Demoszene hält einiges bereit! Und eine Vielzahl von Spielen wird ebenfalls unterstützt.
Durch modifizieren der LPT Bios Table lassen sich die IO Ports als LPT Ports registrieren was dann Stereo on 2 entspricht.
Der Größte Vorteil ist das für Stereo Covox Software keine 2 LPT Ports nötig sind und man sich somit 2 IRQs spart die ohnehin knapp in alten Rechnern sind.
(2x Covox an 2x LPT Ports)
Alternativ kann die Karte auch als Signal Generator eingesetzt werden.
Dual ISA DAC r1 – Covox Speech Thing on ISA Bus
The Dual ISA DAC r1 card contains 2 DAC chips which are in no way inferior to the sound quality of a Sound Blaster.
In variant r1, a GAL is used for address decoding. This allows mono and stereo to be used at the same time.
It can be used to listen to MOD files (stereo) and runs under Windows 3.x with the Covox Speech Thing driver (mono)
The demo scene also has a lot to offer! And a variety of games are also supported.
By modifying the LPT BIOS table, the IO ports can be registered as LPT ports, which then corresponds to Stereo on 2.
The biggest advantage is that no 2 LPT ports are required for stereo Covox software and you save 2 IRQs, which are already scarce in old computers.
(2x Covox on 2x LPT ports)
Alternatively, the card can also be used as a signal generator.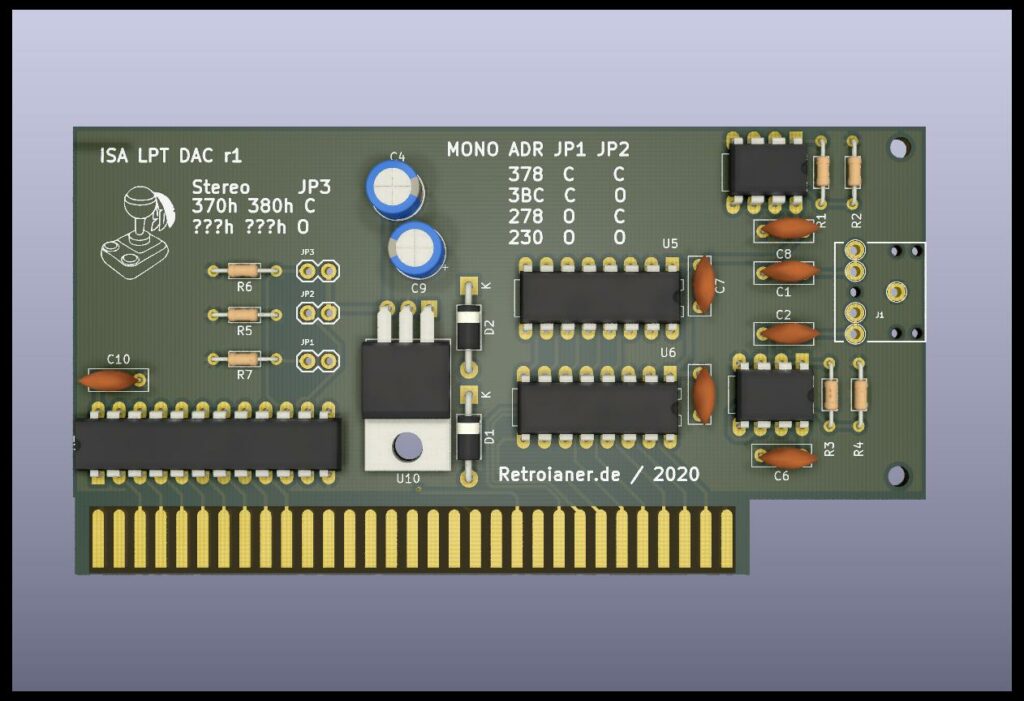 KiCad und GAL
Dies ist mein erster Versuch mit Kicad eine ISA Karte zu zeichnen.
Der Wechsel von Eagle CAD zu KiCAD hat mir einiges Kopfzerbrechen bereitet.
Man sollte zügig von der Maus auf die Tastatur wechseln. 
Dann geht einiges besser von der Hand.
Mit den Keyboard kann man die Teile viel schneller anordnen, editieren und Leiterbahnen ziehen.
Auch mit GALs sind dies meine ersten Schritte.
Mit Programmierbarer Logik hatte ich vorher noch nie zutun.
Für den GAL22V10 benutze ich WinCUPL welches Gratis bei MicroChip zu bekommen ist.
https://www.microchip.com/en-us/products/fpgas-and-plds/spld-cplds/pld-design-resources
KiCad and GAL
This is my first attempt to draw an ISA card with Kicad.
Switching from Eagle CAD to KiCAD gave me a lot of headache.
You should switch quickly from the mouse to the keyboard.
Then things go better.
With the keyboard you can arrange the parts much faster, edit them and draw traces.
These are also my first steps with GALs.
I've never had anything to do with programmable logic before.
For the GAL22V10 I use WinCUPL which is available for free from MicroChip.